Step into Comfort: Transform Your Pool Deck with Rubber Flooring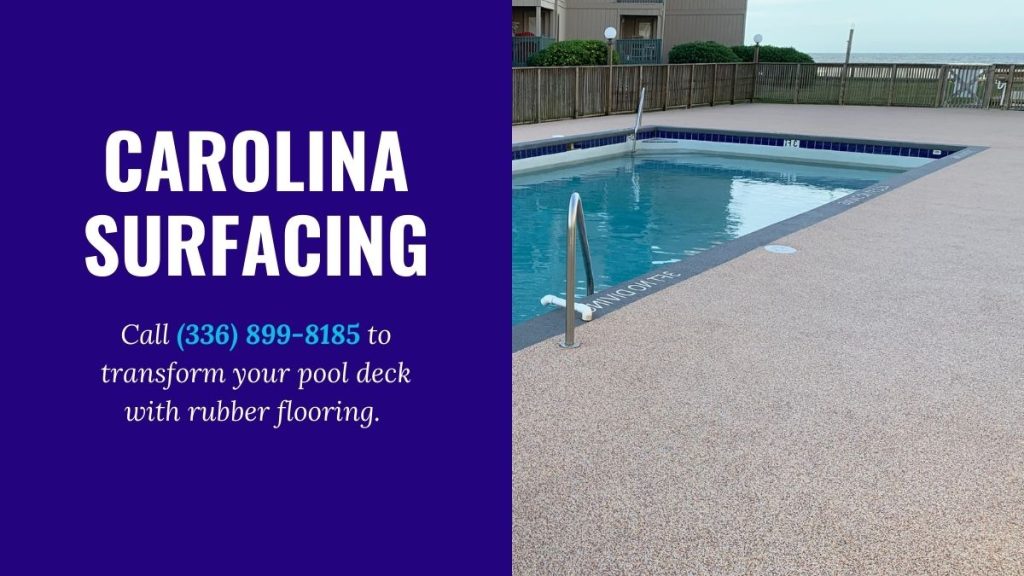 When it comes to creating a luxurious and safe poolside experience, Carolina Surfacing knows how to make a splash. With their expertise in Asheboro rubber pools, they are the go-to solution for transforming your pool deck into a haven of comfort and style.
Enhancing Safety and Comfort
A pool deck should be a place of relaxation and enjoyment, but safety should never be compromised. Carolina Surfacing understands the importance of slip-resistant surfaces, especially in areas prone to water exposure. That's where rubber flooring comes to the rescue. With its exceptional grip and water-draining capabilities, rubber flooring provides a secure surface for pool deck areas. Say goodbye to the worry of slips and falls, and hello to a worry-free poolside experience for you and your loved ones.
Durability Beyond Expectations
The intense sun, occasional rain, and heavy foot traffic can take a toll on traditional pool deck materials. Carolina Surfacing's rubber flooring solutions are designed to withstand the elements and high traffic with ease. Engineered for durability, rubber flooring remains resilient over time, maintaining its appearance and functionality. This means your investment will continue to pay off as your pool deck remains inviting and stylish for years to come.
Unlimited Style Possibilities
Why settle for bland and boring when you can have a pool deck that complements your aesthetic preferences? Carolina Surfacing offers a wide range of rubber flooring options that cater to various styles. Whether you're envisioning a sleek modern look or a more natural and rustic vibe, there's a rubber flooring design that suits your taste. With an array of colors, patterns, and textures available, your pool deck can become an extension of your personal style.
Easy Maintenance, Lasting Beauty
Maintaining a pool deck shouldn't be a hassle. Carolina Surfacing's rubber flooring requires minimal upkeep, saving you time and effort. Unlike traditional materials that can crack, warp, or fade, rubber flooring retains its original charm without demanding constant attention. This leaves you with more time to relax and enjoy your pool, worry-free.
Contact Carolina Surfacing
Carolina Surfacing is your partner in creating a pool deck that offers both comfort and safety without compromising on style. With their expertise in Asheboro rubber pools, they bring a wealth of knowledge and experience to every project. Transform your pool deck into a haven of luxury and relaxation with their durable, stylish, and low-maintenance rubber flooring solutions. Step into a new era of poolside enjoyment with Carolina Surfacing today. For more information about Asheboro rubber pools, browse www.heyitsrubber.com.