Splash pads are one of the most popular applications for our poured-in-place rubber. Splash pads are made for kids to run and jump and frolic in the splashing water. The unmatched safety of our rubber surface is a perfect fit to help avoid slip and fall injuries. Not only are splash pads a great way for people of all ages to have active fun during hot summer days, it is also a great space to create family bonding and develop lasting memories!
Contact our team today to discuss your ideas or for a free quote! We're proud to offer our rubber splash pad surfacing throughout North & South Carolina, including the communities of Charlotte, NC; Greensboro, NC; Winston-Salem, NC; High Point, NC; Raleigh, NC; Durham, NC; Chapel Hill, NC; Wilmington, NC; Myrtle Beach, SC; Hilton Head, SC; Charleston, SC and now Savannah, GA.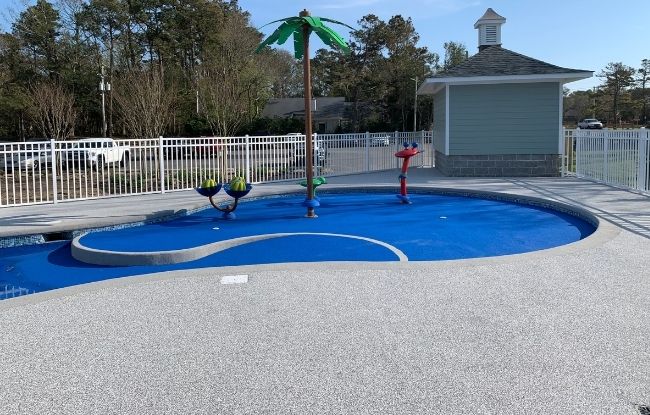 Secure Your FRee Splash Pad Consultation
When it comes to a splash pad surface, durability is second only to safety. This is especially true when children are running around on the water-covered surfaces of a splash pad. When they do fall, our impact absorbing rubber surface will dampen the fall and help avoid injury.
Carolina Pool Deck Surfacing's Carolina Rubber surfacing is the most durable permanent soft surface solution, making your splash pad safe and long-lasting!
From Raleigh, NC to Myrtle Beach, SC, Carolina Pool Deck Surfacing is the #1 choice for splash pad design & installation services. Our durable rubber surfaces cannot be replicated and are built to withstand heavy foot traffic. If you think your Charlotte area home or business could utilize a splash pad, connect with our team right away. We can deliver in-person or virtual consultations free of charge. Our family-owned company is committed to offering affordable and safe splash pad options to you and your family.