Deck Renewal: Rubber Resurfacing in Asheboro, NC!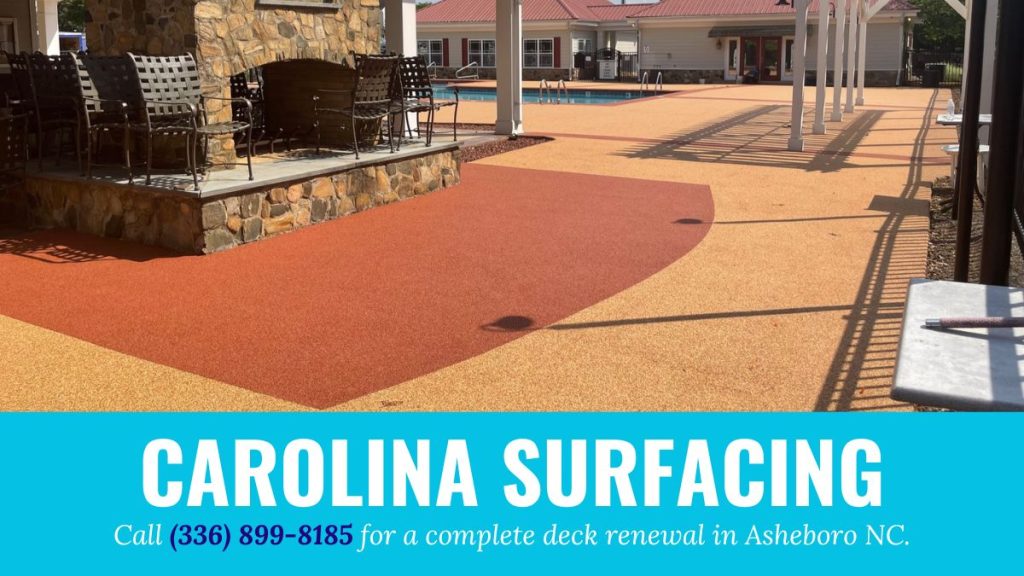 Carolina Surfacing, a premier deck resurfacing company in Asheboro NC, is transforming outdoor spaces with its cutting-edge rubber resurfacing solutions. Specializing in revitalizing decks, Carolina Surfacing brings a fresh wave of innovation to homeowners seeking durable and aesthetically pleasing deck makeovers. When it comes to rubber resurfacing in Asheboro NC, Carolina Surfacing stands out as a leader in the industry. The company's commitment to quality and customer satisfaction is evident in every project they undertake. Using state-of-the-art rubber resurfacing materials, they breathe new life into worn-out decks, creating surfaces that not only look stunning but also stand the test of time.
The key to Carolina Surfacing's success lies in its meticulous approach to each project. They begin by thoroughly assessing the condition of the existing deck, identifying any structural issues or damage. Once the assessment is complete, the skilled team at Carolina Surfacing gets to work, applying the rubber resurfacing materials with precision and expertise. The result is a deck that not only looks brand new but is also more resistant to wear, tear, and the elements.
Homeowners in Asheboro NC, are increasingly turning to rubber resurfacing for its numerous benefits. Carolina Surfacing's rubber resurfacing solutions provide a non-slip surface, making decks safer for families and guests. Additionally, the rubber material offers excellent durability, resisting cracks and fading even in the face of harsh weather conditions. This means less maintenance for homeowners and more time to enjoy their outdoor spaces.
Carolina Surfacing takes pride in its local roots and is dedicated to serving the Asheboro community. The company understands the unique challenges that decks face in North Carolina's climate and tailors its rubber resurfacing solutions to address these specific needs. With a commitment to excellence and a passion for transforming outdoor living spaces, Carolina Surfacing is the go-to choice for rubber deck resurfacing in Asheboro NC.
For homeowners looking to enhance the beauty and longevity of their decks, Carolina Surfacing offers a winning combination of quality craftsmanship and top-notch materials. Discover the difference of rubber resurfacing with Carolina Surfacing – where deck renewal meets innovation. For more information about rubber resurfacing in Asheboro NC, browse www.heyitsrubber.com.